Bedtime congratulates Funshine on his quick thinking, and Funshine tells him he's getting the hang of it.  Good news to Bedtime's ears, since there's still plenty of work to be done.  Tenderheart and Oopsy are not enthused.
Grizzle goes by again (he's having some strange dreams from the looks of it),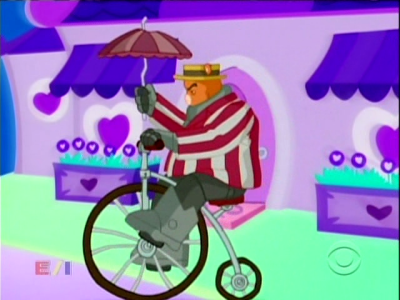 When this ep first started, I thought it would be about the debut of Sweet Dreams Bear.  Like, Bedtime feels lonely because he's the only bear that stays up at night, so Sweet Dreams shows up to fill the void.  But I guess since he interacts with everyone in dreamland, that's not a problem for him.  But still, it would have been cute.
I seriously thought this episode was going to be horrible, horrible!  Not only does it feature McKenna being a brat again, but it also has magical mishaps thanks to the Nimbits!  If ever there was a recipe for a disaster, that is it.  But thankfully, the episode managed to lift itself above these elements (mostly thanks to a lot of Grumpy cuteness) and just be a middling episode (the end dragged it down again, sadly.  Everyone got positive way too conveniently).